How will a Krotos Sound Design Bundle help me?
---
Krotos Sound Design Bundles offer many innovative ways of working with sound. They are guaranteed to save you time and also offer huge amounts of flexibility and creativity. Bringing a collection of Krotos products into your sound design workflow will:
Cover a huge range of sound design scenarios including Foley, footsteps, impacts, sci-fi, weapons, vehicles, dialogue, character design, trailer sounds, animals, user interfaces and many more.

Empower you to complete projects faster by eliminating repetitive tasks and improving processes, saving you loads of time.

Help your clients more effectively with the ability to add variation and respond to their feedback more quickly.

Maximise your creative output through expressive and natural performance of sound effects.
Bundles offer excellent value for money with around 25% off the cost of buying the products individually.
---
1. Performing Foley
Reformer Pro allows you to perform Foley sound effects directly into your project using a microphone, MIDI, existing audio or automation data. This is amazing for clothing and movement, performing animal sounds or surfaces.
Watch how quickly realistic movement Foley can be performed directly into a scene using Reformer Pro with expert Sound Designer, Tzvi Sherman.
"Overall I'd say Reformer Pro is my go-to-tool for quickly creating new fx layers and unique combinations and sweetener. I really like how it allows me to try out new ideas and achieve usable results without losing my creative flow or getting bogged down in technicalities and setup time."

Angelo Palazzo – Sound Designer (Stranger Things, Star Trek Discovery, Frozen 2)
---
2. Layering and Varying Footsteps
Weaponiser is an amazing tool for generating multiple sound effects quickly and easily by combining different layers and then varying how each sound is played back. This makes it brilliant for weapon sound design and it's particularly effective for footsteps, demolition, Sci-Fi design, mechanical sounds, trailers and transitional sound effects as well as punches, kicks and general combat sound effects.
Weaponiser presets can contain up to 80 separate samples which can be layered, sequenced, varied and randomised to create brand new sounds each time you hit the "FIRE" button. This powerful system can produce thousands of possible variations at high speed, ideal for generating source material for game audio or for variations on a design for editors. Once you have recorded trigger points to your timeline using midi, swop presets or assets to try alternatives to your original design at any point during the project.
Watch how Sound Designer Joseph Fraioli (Tenet, Kin) stacks multiple varying sounds, then performs them to create a totally dynamic, giant robot performance!
I must say that Weaponiser is my favorite tool in the bundle. It has so many great features and uses but for me it is most useful for getting things done quickly without giving up creativity and quality. If you ever find yourself struggling over a tedious and repetitive sound editing task….. just "Weaponise It!"

Steven Avila – Sound Effects Editor (Sony/Warner Bros; Preacher, Future Man, Frozen Ground)
---
3. Character and Vocal Effect Design
Our world leading vocal processor, Dehumaniser 2 will change the way you approach character design and vocal performance forever. Looking for  a realistic animal performance or to design a nuanced, gigantic monster? Or perhaps you'd like to design a character for a voice actor to perform their dialogue with? Dehumaniser 2 is hugely popular with game and movie sound designers to bring characters, creatures, robots, aliens and other dialogue to life. 
Often, re-recording mixers or sound designers will have to process a vocal performance after it has been recorded. Using Dehumaniser 2 live can inspire powerful performances from you or your voice actors! See how our friends at OM UK use Dehumaniser 2 in their workflow:
"Dehumaniser is an incredible tool for creating unique and varied vocal sound design treatments, it is simple to use and easily tailored."

Lora Hirschberg (Oscar Winner / Re-recording Mixer)
Learn More About Dehumaniser 2 
---
4. Drive Cars, Fly Helicopters and Pilot Spaceships
Editing cars is hard. Our revolutionary vehicle design system, Igniter lets you design and perform vehicles in your DAW quickly and easily. Ferraris and Aston Martins to more everyday vehicles like Land Rovers and Hondas is now at your fingertips. It comes packed with  hundreds of motorbike, helicopter, plane, pass by and Sci-Fi vehicle presets straight out of the box. Igniter Full Tank is maxed out with over 65 GB of vehicle recordings and assets that can be used inside, and outside the plugin, representing one of the most complete and flexible vehicle libraries on the market.
Performing and automating your onscreen vehicles is easy and you can actually map out your "journey" with every part of a vehicle. From doors opening to switching on the ignition, accelerating, gear shifting, horns, skids and much more! Here's a great example of this in action with our resident expert Sound Designer, Andrew Dodds (excerpt from one of our livestreams)
"Igniter is magical. Cutting revs and piecing together vehicle content to fit a scene can be very time consuming and there are always compromises. Driving a vehicle with a MIDI controller, performing to picture, is a much faster and more intuitive approach to building scenes like this. I'll be using this a lot!"

Mark Kilborn, Sound Designer (Call of Duty, Black Ops 3, Call of Duty WWII)
You get more bang for your buck!
---
Krotos Sound Design Bundles are by far the best value way to empower your workflow. Sound Design Bundle 2 saves you 25% off purchasing Reformer Pro, Weaponiser, Dehumaniser and Igniter Full Tank, and  with our Spring Sale now on, this offers a total saving of $996!
Our Everything Bundle comes with over 100GB of highly quality assets ready to use, as well as all our software. Combined with the power of the Krotos workflow, this massive library can be transformed into anything you can imagine, and is capable of creating virtually infinite amounts of unique new sounds, thanks to our advanced software's layering and variation possibilities. Remember you can revitalise your own library using Reformer Pro or supercharge it by importing these assets into the Krotos workflow. Comparing the cost to conventional large sound libraries, it is easy to see the value that Krotos Sound Design Bundles present. They are an inexhaustible source of inspiration. 
Find the Bundle that's the right fit for your workflow
RELATED PRODUCTS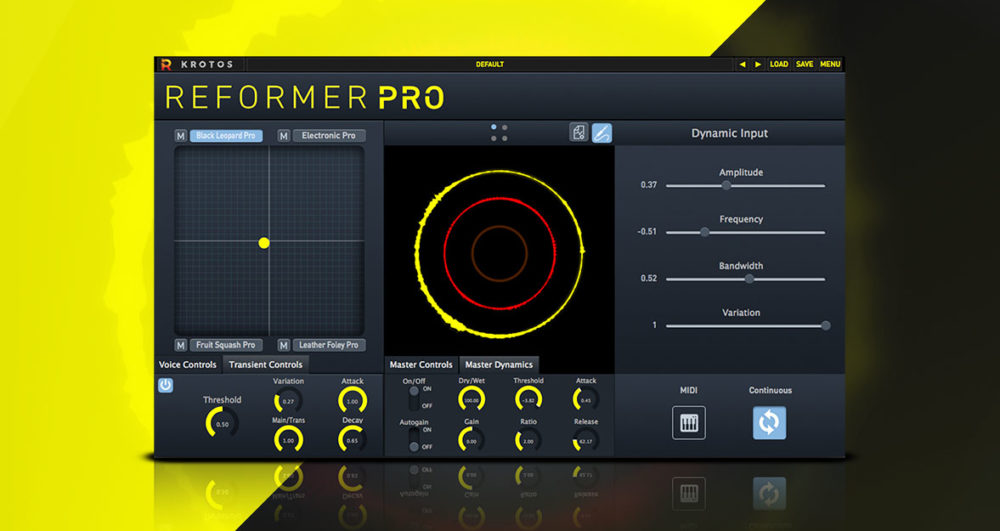 Buy Now
Reformer Pro is a unique 'sound design instrument', that transforms pre-recorded audio files into performable sound...