Bring your Creatures to Life
Dehumaniser 2 is a powerful vocal processor for designing complex vocal sound effects and processing dialogue. Create creatures, monsters, and robots easily and quickly with Dehumaniser 2's intuitive and modular workflow.
Customise and combine effects modules for unlimited creative possibilities, or get started straight away with 100 ready-to-go presets.
The Industry Standard Vocal Processor
Dehumaniser 2 is the all-in-one solution that puts vital vocal sound design features at your fingertips, making it the ideal plugin for use in film, TV, video games, live performance, and more.
With 10 essential modules, and over 100 impactful presets, renowned sound designers have used Dehumaniser 2 to bring other-worldly characters to life in blockbusters like Avengers: Age of Ultron, The Jungle Book, Far Cry 4, The Conjuring, and Stranger Things.
This versatile vocal processor eliminates the difficulty of setting up complex processing chains, and allows designers to jump right into their creative work.
Use Cases in Sound Design
"Dehumaniser is an incredible tool for creating unique and varied vocal sound design treatments. From animal to alien effects, it is simple to use and easily tailored. I couldn't have created the voice of Ultron without it!"
– Lora Hirschberg (Oscar Winner / Re-recording Mixer)
Avengers, The Lion King, Inception, Lord of The Rings
Get to Know Dehumaniser 2
Use Dehumaniser 2 to sound design voice processing that reacts to the dynamics of the incoming signal. Watch our walkthrough video as we set up two different chains of processing and allow one to be triggered by a higher amplitude. Try the stereo spread control, add a wider image or to add depth to the sound.
Sound Library of over 100 High Quality Animal Recordings
Trigger these samples based on amplitude, pitch or from a range of audio descriptors, either with a sample trigger module or as part of our scrubbing convolution module. This includes rare and unusual animals like Bengal tiger and black leopard, as recorded by our sound recordist in Thailand.
Drag and drop a selection of sound files from our audio example's folder to get you started with your sound design. These audio files ship with the plugin are included in the install.
Perform Live Directly in Your Session
Use Dehumaniser 2 in industry-standard DAWs including Pro Tools, Logic, Reaper, Live, Cubase and Digital Performer
Run multiple instances of Dehumaniser 2 on different tracks or buses
Automate hundreds of parameters for unprecedented control over your processing and workflow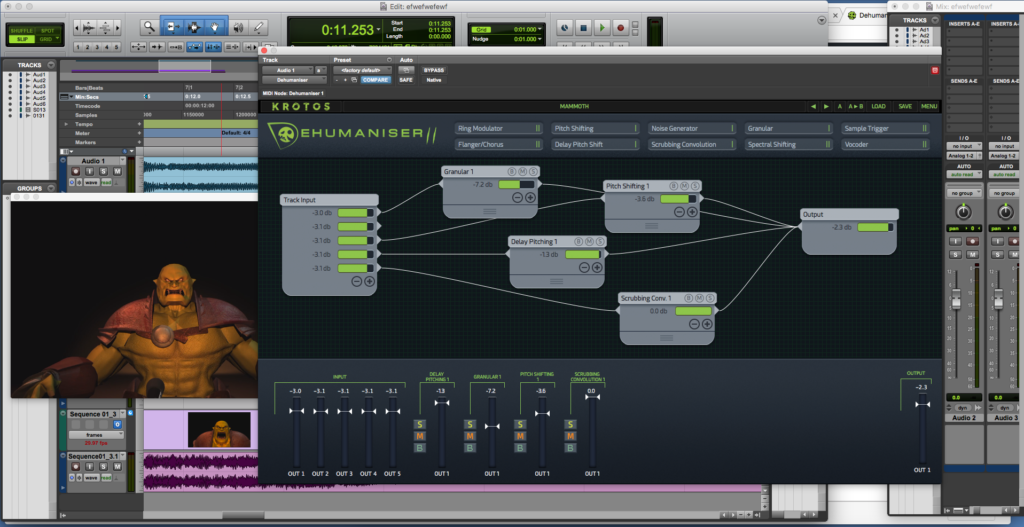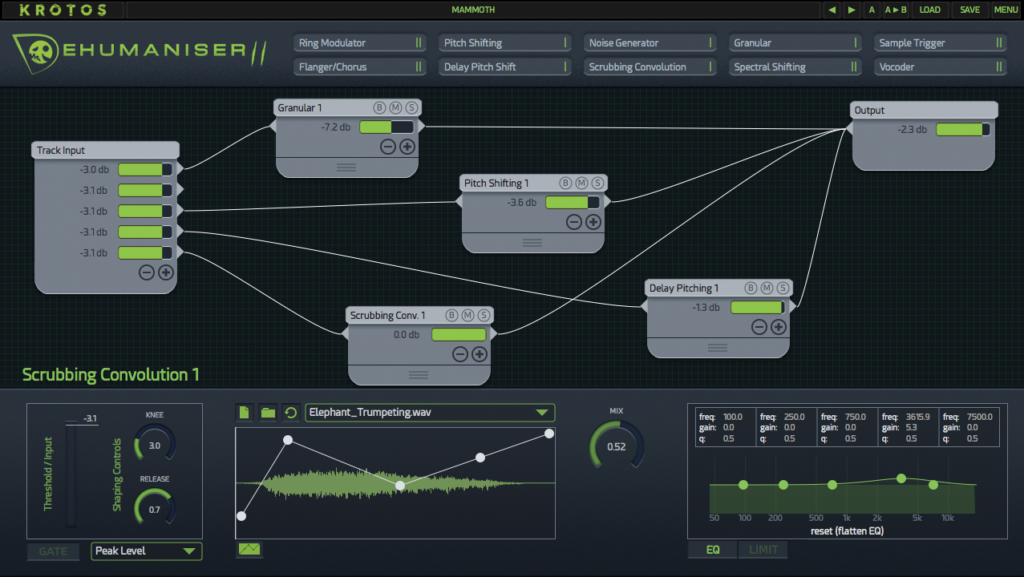 Design Complex Processing Systems Quickly and Easily for Unique Sound Design
Clearly see the layout of audio routings with our modular, node-based system
Use up to two instances of each node; use multiple pitch shifters, granular processors, spectral or convolution processes or more in complex serial or parallel signal paths
Create systems and settings which are truly performable
Jam-packed with Inspiring Presets and Sounds to Get You Started
Our factory library ships with over 100 thrilling presets and 133 high-quality animal recordings, including Tigers, Leopards, Pigs, Parrots and more
Jump straight into creature design or create your own settings
Trigger sample sounds based on amplitude, pitch or from a range of audio descriptors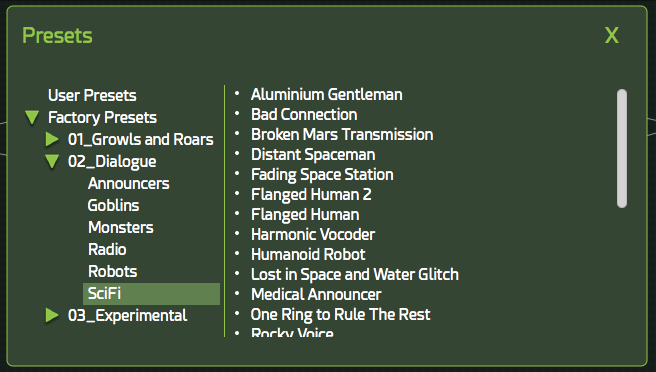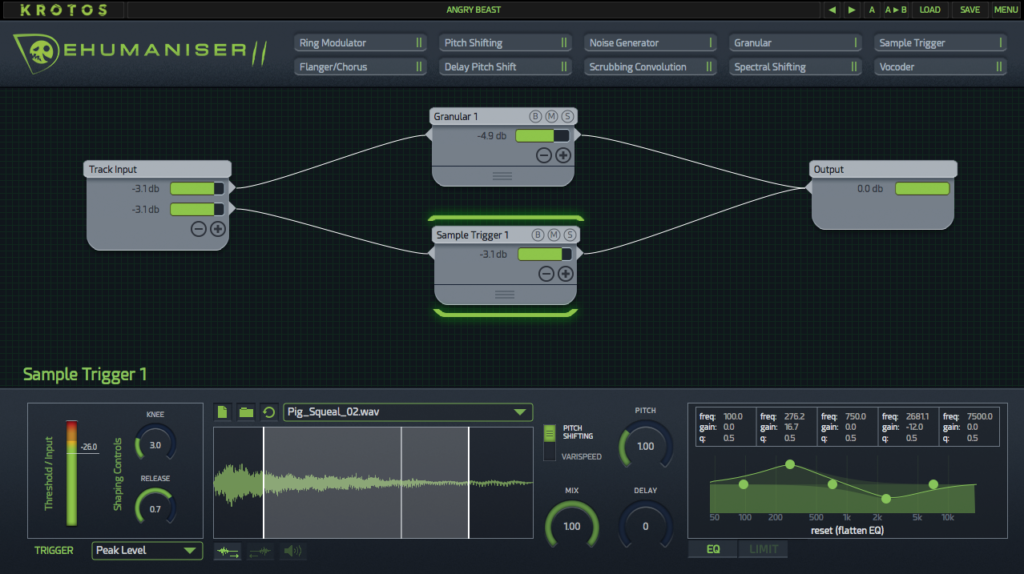 Additional Features
Create dynamic effects that react to the input signal; create processing engaged by pitch or amplitude settings per node
Select between peak level, RMS level, energy difference or pitch tracking to bring your signal to life
Midi control, assign and recall
Gate, EQ and Limiters per module (including input and output)
Custom 'drawer' macro system per node
Envelope-follow based on pitch or noise content as well as amplitude, per module in your custom system
"If you're doing a lot of game audio, working on Sci-Fi, Fantasy, Animation or even Comedy material, this would be money well spent."
– Pro Tools Expert

Purchase Dehumaniser 2
---
Save 40%! Dehumaniser 2 is on sale for one week only. Ends midnight 28th July 2021.
You save $191.52 (40%)
Buy Dehumaniser 2 Now
Already own Dehumaniser Simple Monsters? Upgrade Now.
---
If you have already purchased Dehumaniser Simple Monsters, you can upgrade to Dehumaniser 2 at a discounted price.
You save $144.00 (40%)
Upgrade Now
Even more savings with bundles
Save 30% with a Sound Design Bundle
Krotos Bundle options offer the best value and give you the most flexible, efficient and creative workflows by combining our plugin catalogue with additional Sound Effects libraries at 30% savings. With Dehumaniser 2 available in all tiers, choose a package suitable for your needs and budget.
Buy Now
The Sound Design Bundle combines three of our flagship products together into one essential sound design package at...
Buy Now
The Sound Design Bundle 2 combines our four flagship products with three huge sound effects libraries – bundled...
Buy Now
The Krotos Everything Bundle combines our full plugin catalog with the complete Krotos sound library collection...
System Requirements
Mac
Mac Intel computer with a minimum of 2.4 GHz Intel Dual Core Processor
4 GB of RAM
OS X 10.11 or later
macOS 11 Big Sur support
Windows
2.4 GHz Intel Dual Core Processor
4 GB of RAM
Windows 10 and above
Other Information
This software is a digital download
Formats (64-bit): AAX Native/AudioSuite, VST, AU
Minimum sample rate: 44.1 kHz
Maximum sample rate: 192 kHz
An internet connection is required at the time of activation
Screen resolution of 1280×1024 or higher
An iLok account (available for free at ilok.com) is required to activate and use both the demo and full version of the software
Dehumaniser 2 can only be activated on one computer at a time
An iLok 2 or later is required for dongle use
Supported host applications: Pro Tools (11 or later), Logic Pro X, Nuendo, Live, Cubase, Reaper, Studio One
Included Modules
Pitch Shifter
Delay Pitch Shifting
Granular
Noise Generator
Scrubbing Convolution
Flanger / Chorus
Ring Modulation
Spectral Shifting
Sample Trigger
Vocoder
Download The Manual
"Dehumaniser made its money back in the first 24 hours!"
– Brian Schmidt (Founder and Executive Director at GameSoundCon)

Start Your Free Trial
Buy Now