Krotos Interview with Sound Designer / Sound Editor Steven Avila
From dramatic period pieces to horrific alien invasions, Steven Avila has been responsible for creating unique and rich soundscapes for countless feature films and Television shows such as Preacher, Bloodline, Sneaky Pete, the Frozen Ground, and many more.
Steven talked to us about his career, workflow, and how his Krotos software came to the rescue when designing a particularly tricky scene in AMC's Preacher. Read the interview below to find out what it means to "Weaponise it"!
Hi Steven, thanks for taking the time to talk to us! We're curious to find out more about your background. How did you get started out in sound?
As a kid I was always making home movies and coming up with silly songs. After doing some research on careers in film, I decided that sound was the perfect combination of film and music that I was looking for. I attended Cal State Fullerton and volunteered to do sound on any student film projects I could get my hands on. At the time, there were no sound classes in the film department so it was a lot of trial, error and experimentation. I also took advantage of the sound classes they offered in the theatre department.
After graduating in 1999 I took on a few internships and landed an assistant job at Monkeyland Audio. It wasn't long before they had me cutting effects on independent features and TV projects. I loved the place so much I spent 15 years there! I am now working at Sony Pictures in the TV department which is also a wonderful place to work and a dream come true!
What's a day in the life of a sound effects editor / sound designer like for you?
It's a job I love but it is also very demanding. My days are quite long and intense. I spend about 10 or 11 hours a day cutting sound effects on various TV shows. I would say on average we get about 5 or 6 days to cut hard FX and backgrounds on an hour-long TV show. Depending on how busy the show is, this can be a pretty daunting task. There's no time to be sick, sleepy or slow and you must stay focused the entire shift. After a day of cutting I am mentally exhausted. I go home, get some rest and do it again. At the end of the day, there's nothing more rewarding than listening to your work on TV and getting compliments about how good it sounds. It makes it all worth it!
You've been using Weaponiser in your set-up, what are your impressions, and has it contributed to your workflow?
I was fortunate enough to be the lucky winner of a raffle at the MPSE Golf Tournament about a year ago. Orfeas attended the event in LA and donated the Krotos Sound Design Bundle 2 that I won! I had spoken to him earlier that day about the software and how I wanted to use it for sound on the show "Preacher". Funny how that worked out! I must say that Weaponiser is my favorite tool in the bundle. It has so many great features and uses but for me it is most useful for getting things done quickly without giving up creativity and quality. If you ever find yourself struggling over a tedious and repetitive sound editing task….. just "Weaponise It!"
Can you tell us more about your approach, and the assets you use?
Whenever I have a tedious task at hand I pull up Weaponiser. "Preacher" is an action packed show and sometimes the amount of fighting, shooting and all out madness can be overwhelming. When I see a five-minute fist fight between large groups of people, I find it faster and easier to take all my favorite punches, kicks and whooshes, prep them quickly for Weaponiser and drop them into the software. I put certain groups of sounds in the various banks of each category (Onset, Body, Thump, Tail). Next, I randomize each bank so that every punch, kick or whoosh is randomly selected. I also like to randomize the volume and speed of each sound in turn creating endless combinations for ultimate variation. The synth modulator under the Thump tab is also super handy for beefing up anything that needs more impact. Once I'm all set up, I either mark my session where impacts are needed or try to hit each impact on the fly. I usually record the Onset, Body, Thump and Tail separately to allow more flexibility in the mix.
There's an interesting scene in Preacher that you used Weaponiser for… we want to know more about this! What were your visions for the sound effects, and how did you achieve them?
Sex! Yes, I used Weaponiser for a sex scene! It was a super long dialogue scene that seemed like a piece of cake until the director explained that an angel and a demon were supposed to be having crazy, floor pounding sex in the room upstairs. To create a realistic, non-repetitive, bed pounding sound with a free flowing rhythm would have been super tedious and time consuming. I decided to "Weaponise It"! I gathered my elements (wood hits, ceiling thuds, bed squeaks, springs). I prepped my sounds, dropped them in, randomized and then performed the sex scene with my mouse. It was great! It sounded realistic due to the variation and organic rhythm of my performance.
And how would you have approached these scenes before you discovered Krotos and Weaponiser? 
Before Krotos Weaponiser this would have taken some time. I would have started by finding a good series of wood hits to use as my base headboard sound. I would have started laying the wood hits across the scene one by one in random order. I would have also tried to vary the speed between hits via nudge and vary the pitch of each hit via pitch shift. Once I had my base down, I would have started adding more elements (wood hits, ceiling booms, bed squeaks, bed springs) making sure each element was in sync with the previous sound. Let's just say Weaponiser saved me some time 🙂  
Finally, do you have any advice for the Sound Effects Editors and Sound Designers of the future? 
I see lots of young sound graduates who are so hung up on the idea of working at the biggest studio, with the most famous supervisors on the hugest blockbuster films. Try to concentrate on learning the craft in those first years instead. Learn everything you can and get those mistakes out of the way. Your first job is usually where you'll learn the most. It's ok to work at a tiny post house doing sound for a cheesy web series. Any place that lets you get in there and get your hands dirty is a perfect place to hone your skills and get good enough to impress people. Don't forget to network! Knowing people is half the battle!
RELATED PRODUCTS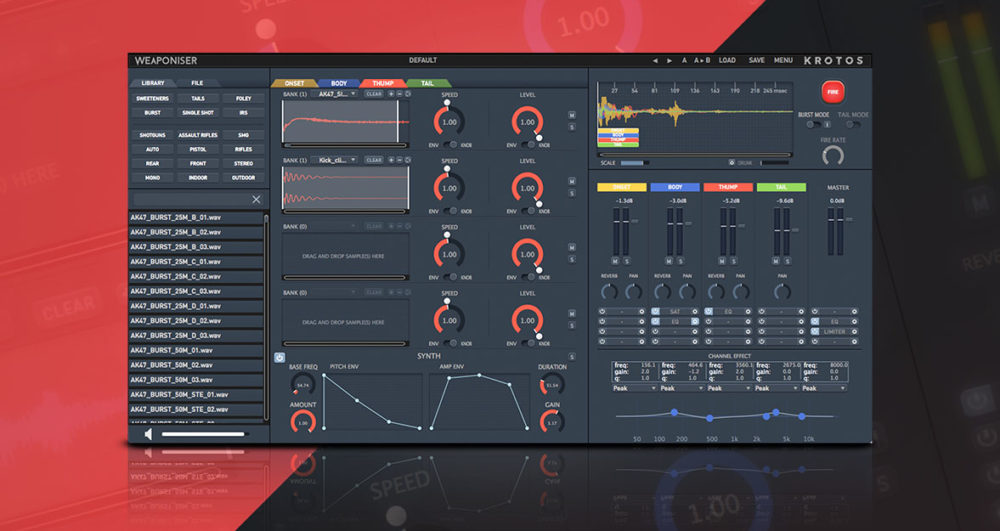 Buy Now
Your Secret Sound Design Weapon Weaponiser is an inspiring audio layering solution that allows you to design,...