Production Expert Weaponiser Review: "Is This The Ultimate Weapon Sound Design Tool?"
---
Sound designer Paul Maunder puts Weaponiser to the test for Production Expert.
Get a quick overview, and watch an in-depth walkthrough to learn about Paul's workflow for designing weapons, footsteps, and other creative assets quickly with the plugin. Join Paul and follow along while he works to picture to design his sound effects with ease!
"Having used Weaponiser in a few projects now, it's already becoming an invaluable part of my sound design workflow.
I've found Weaponiser to be a great time saver and a fantastic tool not only for weapon sounds but also for triggering foley sounds such as footsteps. The included cinematic trailer samples and whooshes are also a nice addition and I can see Weaponiser becoming a regular part of my sound design workflow."
Read the Full Article
Why Weaponiser?
Weaponiser is the powerful sound design sampler that allows you to design, customise, and perform a huge range of sound effects at high speed – all from within one plugin.
Save time by creating endless variations quickly, and perform your designs via MIDI, using hundreds of factory presets to create a huge range of sound effects: Real-world or Sci-fi weapons, Whooshes, Magic, Footsteps, UI, Transition and Cinematic effects and lots more
Start your free trial and experience the power of Weaponiser in action!
Weaponiser
Free Trial
RELATED PRODUCTS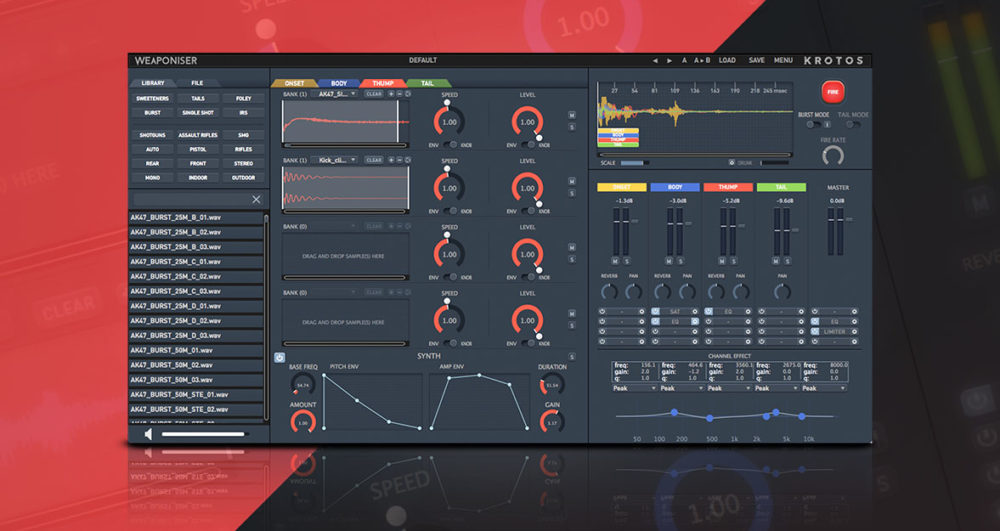 Buy Now
Your Secret Sound Design Weapon Weaponiser is an inspiring audio layering solution that allows you to design,...