Sound Designing Trailer Assets
Did you know…
Trailer composers do not actually compose music or sync sounds to the trailer? Instead, they create all of the trailer sound effects beforehand & send them to the ad agency who will then cut them to the trailers:
"We rarely sync the sounds to the picture ourselves. 99% of the time you create the assets either as part of a library or due to a creative brief.
An editor then cuts to those assets, so the footage isn't  even a help! By the time a trailer is at this point, it's out of your hands." – Joshua Fielstra
So, with no visuals to work from, how do you get started designing libraries of sound effects, impacts, whooshes, transitions as well as sweeteners and musical assets?
Krotos power user and Sound Design Bundle Owner Joshua Fielstra told us five of the most important things he does in his trailer compositions. Joshua has used these tips in the creation of trailer music & assets for Deadpool, The Maze Runner, and Suicide Squad – no doubt they'll be useful for your work!
Five tips for creating trailer sound effects
1. Start with an abstract concept
What would a semi-tractor trailer wreck in a gymnasium sound like? What would robot servos restrained by tight rubber bands sound like when they eventually broke? I've found that's how I get unique sounds – not by doing something that's within a particular category, but by being inspired by something maybe no one has heard before. Then there is a unique component to the SFX that stands out and increases its likelihood of being used.

2. Split design, levelling/conformity, and mastering sessions
These are very different tasks, all of which require fresh ears, so be sure to split them into completely separate sittings, ideally separated by a few days. Designing impactful SFX inevitably involves playing the same thing repeatedly – a lot.
We can get really comfortable with a sound not because it's "good," but merely because we've played it 100 times. I've been astonished at how weak something sounded when I come back to it a few days later. Sometimes it's even been the exact opposite – an SFX I was hawing over needlessly is actually fine as it is, it just needs a little mastering dust!
Deadlines can sometimes make this difficult, which is where planning and scheduled breaks can be your best friend.
3. Build a library of re-usable SFX components
Sweeteners, subs, and noise are all recurring components in many stylized SFX that can be re-used and altered to suit the task at hand. They aren't the defining characteristic of the SFX, they're merely a supporting element, so there's not much point in reinventing the wheel!
With a shortlist of go-to SFX in place, you can spend your time focusing on the more unique aspects of your sounds. No one is likely to say "Hey! That asteroid impact has the same 200ms sub bass sweetener that you used in the glass window blowout!" so re-use the components you worked so hard to design, and save yourself heaps of time.
Sign up to the Krotos newsletter and get free sound effects to your inbox every month!
Our monthly free sounds offer you a wide range of sound categories from Foley, combat sounds, impacts, animal sounds, to transitions and more!
Join the newsletter
4. It is almost impossible to over-design trailer SFX
When making impactful trailer SFX – things like hits, blasts, breaks, etc – there is rarely such a thing as "too much." If you think it's too much, you may just be monitoring too high. Take a look at some of the most recent modern trailers – sometimes a single SFX is powerful enough to carry an entire 5-7 second sequence. So don't worry about something sounding too much!
5. Save time wherever you can by using macros
If you find yourself doing the same process in your DAW 100 times, that's a prime candidate for a keystroke macro. This is where you can assign a single button to do a process for you automatically.
Reaper is a fantastic DAW for this kind of thing, but if your DAW doesn't support macros or scripting, there are 3rd party programs that can bundle keystrokes/mouse movements. This can increase your productivity massively because you're using less time and energy to accomplish the same task.
Time to try these tips yourself!
With these tips and tricks in your arsenal, you will be on your way to creating libraries full of incredible assets to be used in trailers in no time, and by using Krotos plugins in your workflow, you will save hours of time when compared to typical drag and drop layering in your DAW, just like Josh.
About Joshua Fielstra
Joshua Fiesltra is a sound designer working in the exciting world of trailers. Joshua has created music and sound effects that have been used in trailers for Game of Thrones, Ray Donovan, Deadpool and many other projects.
Visit Joshua's website

Watch our Interview with Joshua Fielstra earlier this year
Want more Tutorials and Articles Like This?
Sign up to the Krotos newsletter and get free sound effects to your inbox every month!
Our monthly free sounds offer you a wide range of sound categories from Foley, combat sounds, impacts, animal sounds, to transitions and more!
Join the newsletter
Joshua Uses Krotos Software when creating his Trailer Sound Effects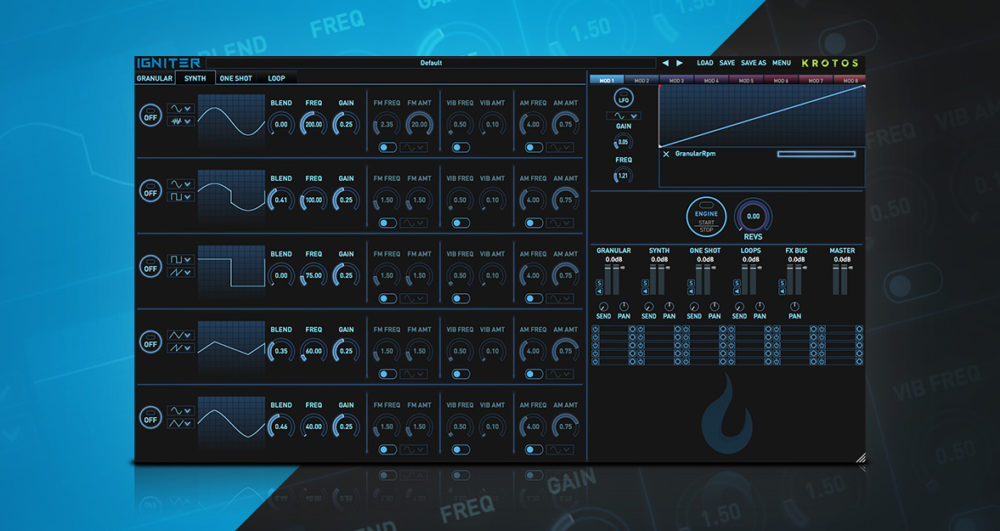 Buy Now
Driven Creativity In SoundIgniter Full Tank combines the Igniter plugin with an unparalleled 65GB vehicle sound library...
View More Tutorials and Articles