Behind the Scenes: Acid Gun
The Weaponiser Fully Loaded 1.2.0 update brings a lot to the table in terms of performance and usability but it also comes with 17 new presets and 106 new assets. In this blog post, we are going to dissect some of the new content to give you a behind-the-scenes look at how Krotos' sound design team works. This will also be a useful case study of how to make a coherent set of audio content.
Specifically, we are going to be talking about the newest addition to our Sci-Fi armory – the Acid Gun.
What's new in Weaponiser 1.2.0
High Concept
Designing content for a sound library is always an exercise in balance – you want your sounds to be as broadly useful as possible but you also want them to have style and character. I like to visualise the gun I am creating. No content here yet, but our visualisation is going to influence the final outcome. Here's what I came up with:
Acid Gun resembles a mix between an assault rifle and a shotgun. The acid projectiles are loaded by means of a canister. The gun has several different fire modes and needs to be charged to perform special attacks. It spews green acid balls that cut through everything in its path.
Note that this is still pretty general and it's just for my reference so I have a design to lean on. You can have a completely different idea of how the gun looks and that's perfectly fine!
Firing
The main component of the gun is the acid blast, so some fizzy, bubbly sound was needed. I brought a couple of soda cans to the studio with malicious intent. Since we are an Edinburgh-based company, Irn Bru, the liquid essence of Scotland, was used.
P.s. If you've never seen this before, try it. You'll either love it or hate it.
The energy version of the drink has a distinct shape that makes an interesting hollow twang sound if you punch it. We're going to pierce this can to make the main part of our sound. The explosion of acid has to be forceful and huge to make the listener sure that he's hearing a powerful weapon. As always, high quality source material is a key to a good design. Here's how piercing of a can sounds like:
P.S. The soda blast totally did not hit the other sound recordist straight in the face.
P.P.S. Sorry Andrew.
This sounds interesting on its own, but for this gun, we want something a bit more of a Sci-Fi feel. Some flanging, frequency shifting and tremolo will help us with that.
To increase the futuristic feel of the gun, I created some additional plasma and laser shots using sound synthesis. They are all available with the update!
The gun also needs a tail sound. If you fill a container with a fizzy drink and then let a couple of drips hit the liquid surface from a height, you get a very interesting dissolving sound.
Some processing and we have a sound of the acid ball moving away from us.
Handling and Foley
There's much more to a weapon than just firing. There's a plethora of reloading, handling and general gun Foley sounds that can be created to flesh out our weapon. I tried to get as many sounds from the cans as possible. Tearing them to pieces, squashing them, opening them after various degrees of shaking. This gave me a nice selection of multi-purpose sounds. As they are made with the same source material, they create a feeling of cohesive whole, which we want for a sample pack. Here's a can opening sound:
If we shrink it by using time-stretch, we can get something that will work really well as a sound of attaching the acid canister to the gun.
Audio processing is going to be very helpful here. We want to convey the feeling of weight and power of the gun. The gun has to feel heavy and that means that low-end enhancement across all assets is going to help us achieve that. Using similar processing also adds to the feeling of uniformity.
Mangling the soda can yielded interesting results. We can convey the feeling of various parts of the gun moving, adding life to it with the mechanical layer. Then we can combine those with some actual gun Foley and synthesised content to create full sounds. If we want to, for example, make a recharge sound, a rising synth and some tremolo will also help us.
Summary
Final stage of creating the acid gun presets is going to be adding some actual gunshots. Adding real-world sounds grounds our experience and adds to the suspension of disbelief. As this is a shotgun/rifle hybrid, I used SPAS-12 and AK-47 recordings, available in Weaponiser Fully Loaded. Here's a short audio scene with the presets in action:
By using interesting source material, original and distinct sounds were designed. They create a cohesive whole and could be used in a game or motion picture. Having general principles for audio processing helps with glueing the different presets together so that when we hear the showcase above, it feels like one gun. Although the weapon has a style, it is generic enough to be flexible. Additionally, as what I am showing is used in Weaponiser, you are not stuck with how I wanted the gun to sound but you can pick and choose whichever elements you want and add them to your designs!
If you have any further questions regarding the design of this weapon, do not hesitate to contact me.
P.s. The main inspiration behind using the soda cans is this fantastic article by Oscar Coen.
Demo Weaponiser
Ready to give Weaponiser a try? Download a free 10 demo of the plugin to trial out version 1.2.0. The demo now comes with 10 new additional presets from the Weaponiser update.
Demo Weaponiser
RELATED PRODUCTS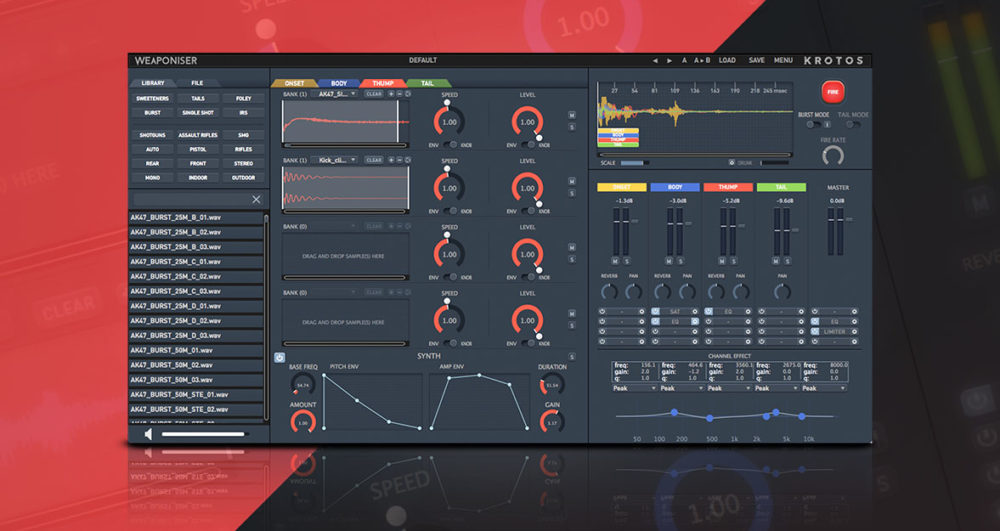 Buy Now
Your Secret Sound Design Weapon Weaponiser is an inspiring audio layering solution that allows you to design,...