SoundMorph Portals Sound Effects Library
Integrated with Weaponiser
Speed-up and transform your workflow
SoundMorph Portals sound effects pack has been adapted for use with Weaponiser in this brand new library!
We have collaborated with SoundMorph to formulate powerful door sounds that are rich with detail and ready to be used out-of-the-box, or customised to your heart's content.
This SFX library sounds incredible. Using it with Weaponiser will deliver fast, exciting and powerful results. With 50 presets of various door types including everything from medieval stone doors and contraptions through to science fiction doors and portals, we have incredible sounding, highly customisable sounds ready to slot into your projects.
Have fun designing castles, spaceships, portals, trap doors that are ready to be used within your film, tv, video game and podcast projects. With time sensitive deadlines always looming, these sounds are primed and ready to go!
$142.80 inc. VAT ($59.50 ex. VAT)
You save $71.40 (50%)

Sure you can have a collection of regular old door sound effects and recordings, or you can have our excellent collection Portals, a designed and source recorded door opening and closing collection that gives you the freedom to do what you need to do in the moment.
Portals gives you the option to craft your own door layers or use one of our high quality designed door files to either start with or just drag and drop into your next game, film, or media project.
With a focus on Sci-Fi, Medieval, Metal, and contraption type doors, Portals is an excellent resource to add to your tool box to make your sound life a little more easy and a little more enjoyable.
Sound Categories Included in this Library
Source Doors
Designed Doors
Medieval Doors
Sci-Fi Doors
Stone Doors
Teleport Doors
SOUND EFFECTS KEYWORDS
DOOR, MECHANISM, MEDIEVAL, OPEN, CLOSE, PORTAL, DESIGNED, SCI-FI, STONE, TELEPORT, SOLAR SKY, SPACE, SHIP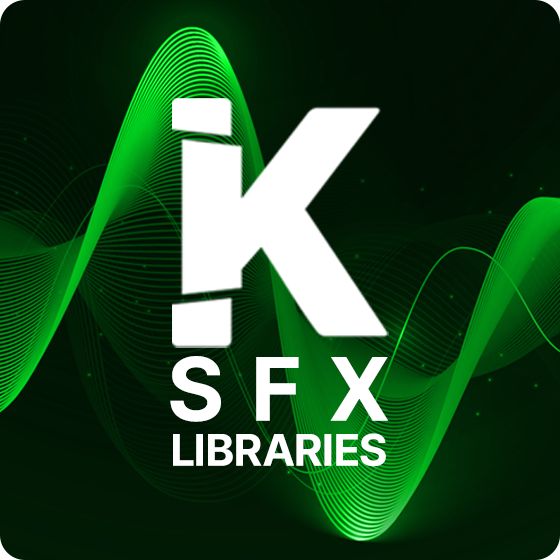 Twice the value for the same price
With Krotos Sound Effects Libraries, you receive two downloads in your purchase: your integrated library for use inside a Krotos plugin, and your traditional library for use in any existing workflow. The traditional sound effects library of 100% royalty free sounds offers complete flexibility for your design process: add to your DAW timeline directly, or with other plugins to sync to footage.

Curated and unique sounds, handpicked by the best sound recordists and designers

Rich and cinematic royalty-free sounds to enliven and add character to your projects

High definition audio files & well organised metadata ready for use in Soundminer, BaseHead, and all DAWs
Supercharge your workflow with Weaponiser integration
Unlock the full potential of this sound effects library by turning it into a powerful addition to your workflow with Weaponiser. The integrated Weaponiser version of this library allows you to make use of this library in Weaponiser with straight out-of-the-box assets.
Where your imagination takes you is not for us to decide, but the instant Weaponiser integration will make your discoveries faster and more dynamic. It unlocks the potential for adding your own unique layers with ease, to create fast and instant variations on these excellent sounds – customising these presets is as simple as dragging and dropping your own sweeteners onto a layer in Weaponiser and hitting the fire button.
The Weaponiser library offers designed presets for instant power and variation. Weaponiser's powerful bank system delivers almost unlimited sound variations to your design. Thousands of unique assets and variations can be generated from this sound effects library immediately and synced to screen effortlessly.

Library Information:
419 Sound Files
1.09GB Size
96khz/24 bit High-Quality WAV Files
100% Royalty-Free Commercial License
Embedded Metadata
50 Weaponiser presets designed by Tommy Bradly (Sound Designer and Sound Editor)
Contains two downloads:
A zip file containing all source sound effect asset files with Metadata PDF
An installer for your integrated Weaponiser library including assets and presets (iLok is required for the integration installers)
$142.80

inc. VAT

You save $71.40 (50%)
Add to Cart
"SoundMorph's libraries are very well done and inventive. They are not only a lot of fun to listen through, but fun to use as well. The software tools are much more than libraries —
they're library MAKERS. Keep 'em coming!"
– David Farmer (Supervising Sound Editor)
Skywalker Sound, The Lord of the Rings and Hobbit trilogies, King Kong

You may also like…
Buy Now
The robots are taking over! Robotic Lifeforms by Soundmorph is the one of largest collections of robot...
$

262.80
You save $131.40 (50%)