Part 3 of Joshua Gouzy's video game sound effects redesign is here! this time he is redesigning the Tremortusk roar sound design from Horizon: Forbidden West using Dehumaniser 2!
Joshua is a Sound Designer, Composer & New Orleans Jazz Bassist with a passion for games. In this three-part feature, Joshua shares how he redesigned this scene from Horizon: Forbidden West using Reformer Pro, Weaponiser & Dehumaniser 2.
Did you miss the other tutorials in this Horizon: Forbidden West sound design series? Here is part 1 and part 2. Don't worry, each tutorial is for a different sound, so you can check them out in any order you like!
Joshua Gouzy:
A crucial skill for any sound designer is to be capable of delivering top-quality assets quickly and efficiently. While I am confident in my abilities as a designer to bring me to the necessary end result, the Krotos plugins have essentially turbocharged my workflow. Now I can get to the end result much faster.
As exciting and rewarding as it is to discover and create synthesis and/or samples and shape them to the needs of a project, there are certain aspects of sound designing that can get repetitive and tedious. The Krotos plugins I use cut down on those times tremendously, leaving me with more room for sonic exploration and creativity, which naturally results in better quality assets, and an overall happier client.
When starting a new project, it's never a question of whether or not I would use a Krotos plugin, but rather how many I'll use. When planning my approach for rescoring the sound design for a battle sequence in the new video game Horizon: Forbidden West, I knew from the very start that I would be using the Krotos plugins Reformer Pro, Weaponiser and Dehumaniser 2
For the Tremortusk's roar, my goal was to craft a sound effect that reflected the idea of the machine itself, in a sense that it was very much a robot, but it also felt like a living, autonomous creature capable of experiencing pain and emotion.
After designing a very angry-robot-sounding patch in Kiloheart's Phase Plant, I manipulated and layered in 50 samples throughout the sequence that included a wide variety of heavily processed sounds such as pitched-down alligator growls, auto-tuned sea lions, steam whistles, whooshes, a sub drop, and of course, reversed trumpeting elephants.
After combining all of these elements together, I still felt it needed some life. It was lacking a defining character that bridged the gap between the organic and the mechanical; something that would truly make it come alive. So I called in my 6-year-old son and set up the microphone with Dehumaniser 2.
I first showed him the video without audio, and asked him "What do you think this bad guy would sound like in real life?" He thought about it, and we made several record passes. Afterward, we sat down together and ran his clips through Dehumaniser 2, and had an absolute blast.
I'll never forget his shouts of pure joy and excitement as we morphed his voice into all sorts of creatures, robots, aliens, and more. After a lot of laughing and goofing around, we decided to keep all of his recordings (did I mention I love layering?) and used our own modified versions of the Dehumaniser 2's presets Basic Vocoder, Dubby and Drugged, Old Robot, and Mammoth on them.
Once it was done, I felt the Tremortusk now had a defining voice that carried an essence of life, emotion, and weight, while still staying true to its robotic roots.
Additional spots where Dehumaniser 2 was used:
● Raptor voice
This post wraps up Joshua Gouzy's three-part design process for his Horizon: Forbidden West redesign. catch part 1 and part 2 here and for more on Joshua and his work, Visit his website: https://www.joshuagouzy.com/
Want to try some of Joshua's techniques for yourself?
Take a trial of our Sound Design Bundle
Fill in the form below and the bundle will appear for download immediately, or purchase the bundle right away below!
Related Products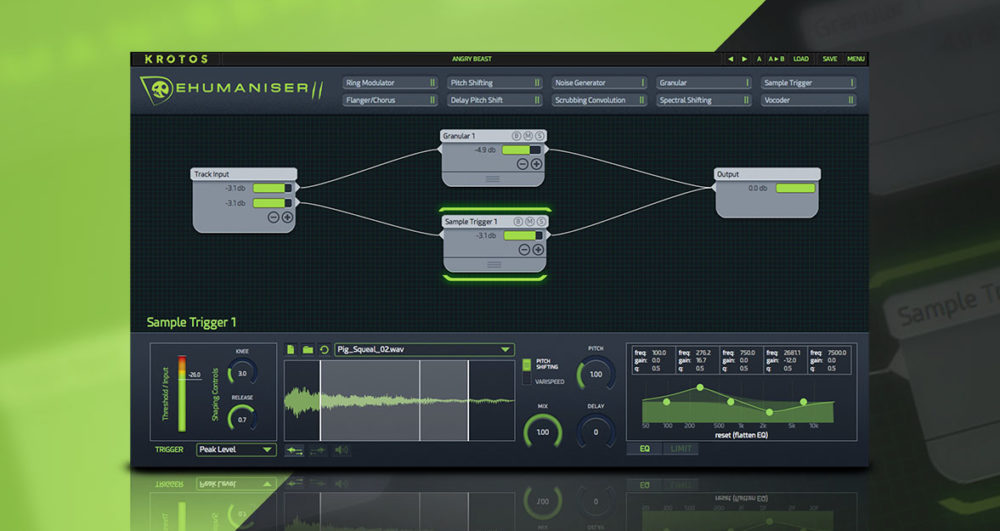 Buy Now
Dehumaniser 2 is a powerful vocal processing tool perfect for a range of vocal effects, from monsters to robots and...
Buy Now
Simple Interface. Powerful ResultsDehumaniser Simple Monsters is a powerful vocal processing tool perfect for a range of...