Dehumaniser Simple Monsters allows you to perform your sound design creatively and with limitless flexibility.
Here are five things you can do that are guaranteed to unleash your inner beast!
1. Big Sound, Simple Controls
Simple Monsters might look simple, but it packs a serious bite when it comes to sound design for monster SFX.
A subtle change of one parameter can affect the others, making Simple Monsters even more powerful and unexpected than it first appears!
Watch the video:
2. Intuitive Performance
You can change the UI from sliders to XY pads at any moment, allowing you to assign parameters to the X-Y axes of either pad using the dropdown menu.
With this workflow, you can quickly and easily perform your designs by controlling multiple parameters from a single control – a superb feature for experimentation or live performance!
See it in action below:
3. Adding Animal Sounds
it is no secret that animal sounds of all shapes and sizes are used by sound designers for creature sound effects.
Simple Monsters comes with many high-quality animal recordings to include in your designs. Tigers, Magpies and beyond can be added as a layer or blended with the incoming audio to create a unique sound effect.
You can also of course add your own sounds. Using the buttons above the waveform display lets you import a your own audio files to your designs. This can help  you to design unique and original sound effects that are all your own!
See it in practice in the video below:
4. Remote Control with OSC
With our Touch OSC integration, control your performance from the vocal booth, the stage or in the studio. Leveraging the power of the touch screen, this series of custom built templates for your phone and tablet allow you to control multiple parameters simultaneously, and remotely.
This does require purchasing the Touch OSC app for iOS or Android (although it is very affordable!). This add-on can easily unlock a great performance and help voice actors reach new heights.
5. The Wildness Parameter
You don't often see a slider called 'Wildness' on a plugin UI! This parameter adds variation and randomness under the hood of the Simple Monsters, making the sound more unpredictable, and well…wild!
If you're need edginess to the sound you're working on or just need something unpredictable, try increasing this slider!
Watch the video:
Purchase these plugins below – up to 70% in our Halloween Sale
Buy Now
Simple Interface. Powerful ResultsDehumaniser Simple Monsters is a powerful vocal processing tool perfect for a range of...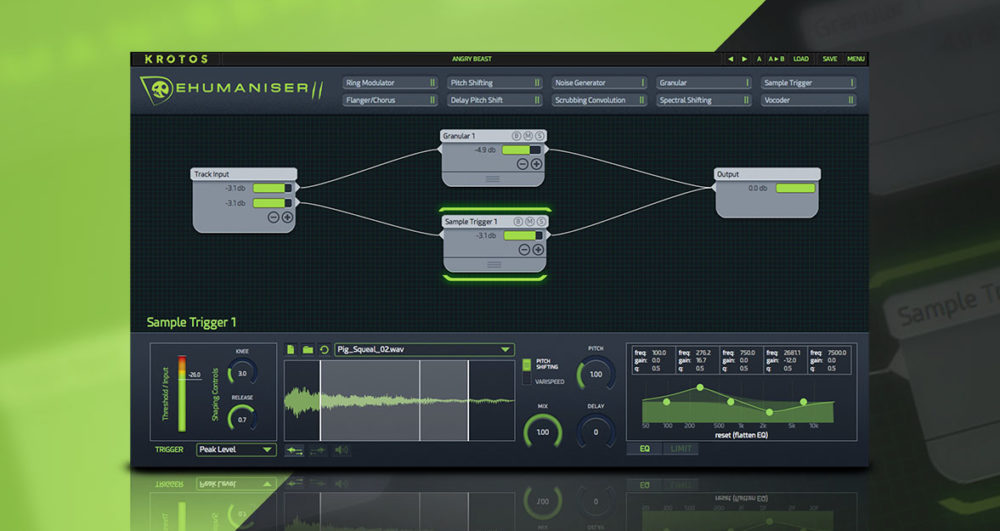 Buy Now
Dehumaniser 2 is a powerful vocal processing tool perfect for a range of vocal effects, from monsters to robots and...
Sign up to the Krotos newsletter and get free sound effects to your inbox every month!
Our monthly free sounds offer you a wide range of sound categories from Foley, combat sounds, impacts, animal sounds, to transitions and more!
Join the newsletter