Transform your sound design workflow with the new Weaponiser 1.4.0 update!
---
Weaponiser is the powerful sound design sampler that allows you to design, customise, and perform a huge range of sound effects at high speed – all from within one plugin.
Weaponiser has just been updated to version 1.4.0, offering you even better sound and improvements to your workflow when using the plugin.
Explore Weaponiser
What's new in Weaponiser 1.4.0?
Sound improvements: Weaponiser now sounds better than ever!
Weaponiser sounds better than ever, with improvements to the core engine. Transients and high frequency response are improved across all material and sample rates.
Workflow improvements: work even faster and more efficiently
In response to your feedback we've made a series of tweaks to how Weaponiser displays sample information, and how you can edit and access assets.
We hope these changes help you work even faster and more effectively using Weaponiser to get the sound you're looking for!
The file name of the currently loaded sample will now display in the sample engine in the plugin. This is especially useful when loading multiple sounds into Weaponiser's bank system, where choosing the correct asset to delete from the dropdown could get tricky.
Long file names are automatically scrollable when displayed in this area, making it easy to track variations, if they exceed a certain length and files from your own library and other providers. Longer file names also scroll in the file browser, helping you find the exact asset you're looking for faster and more easily.
Zoom using the mouse wheel or trackpad has also been added to the sample engine. This speeds up finding the exact region of complex assets or those with multiple takes, allowing quick zooms in and out without needing to use the +/- buttons in the UI (which still operate as before).
BUY NOW TO SAVE 30%
How do I update to the latest version?
If you already own Weaponiser, you will be prompted automatically to download the latest version when you next open the plugin. You can check your version manually by going to Menu > Update in the top bar of the plugin.
You can also access latest versions of any Krotos plugin in the 'My Downloads' section of your account when logged in on the Krotos website.
Please note: To update your existing plugin, select the Update Installer (50MB only) from the My Downloads section. Skip the full installer (1.88GB for Basic, 8GM for Fully Loaded).
Experience the power of Weaponiser in action
Weaponiser is available to try for free with a 10 day trial. The demo features a smaller selection of presets and assets than the full version for you to test the software's potential.
START YOUR FREE TRIAL
RELATED PRODUCTS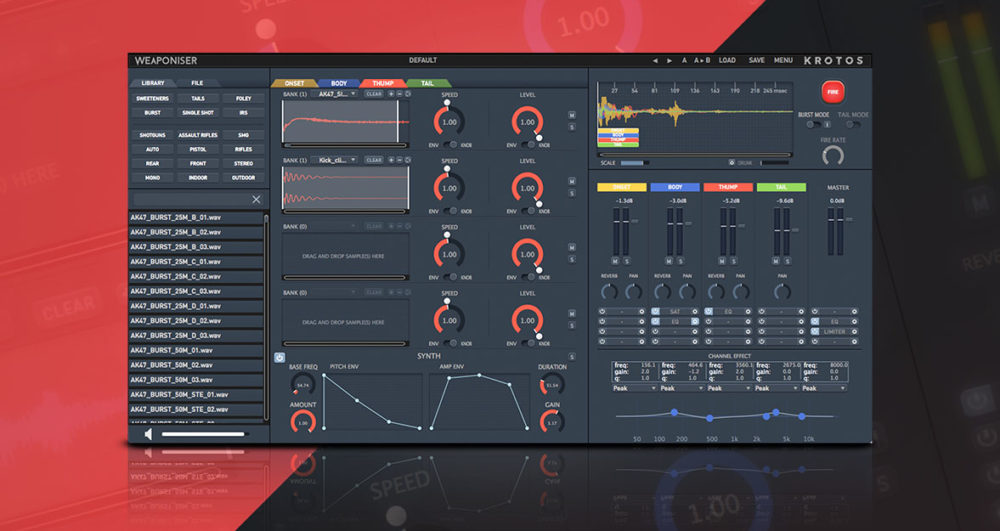 Buy Now
Your Secret Sound Design Weapon Weaponiser is an inspiring audio layering solution that allows you to design,...