Introducing Weaponiser 1.3.0
Weaponiser is our flagship layering solution that allows you to design, customise, and perform a huge range of sound effects in real-time to save you hours of editing time.
Find out what's new in the Weaponiser 1.3.0 update to both Weaponiser Basic and Fully Loaded.
Weaponiser
What's new in Weaponiser 1.3.0?
1: Updated Browser with new tags
With the recent v1.2.0a Weaponiser update making waves in the sound design community, we felt it was the time to improve the default browser. This uses our own tag-driven database to help you find sounds fast, and get them into Weaponiser's powerful sample engine.
Since the plugin is no longer focused around Weapon design, this browser has been updated to quickly filter the vast range of Factory Content by popular categories. You'll see that we have retained the most popular tags from the original Weaponiser tags.
This has now been updated to work at high-speed with all Factory Content and even add-ons libraries like Battle Bundle, Pulse Energy Weapons and Futurism.
2: Fixes and improvements
This new version of Weaponiser also contains a number of fixes to the plugin, reported by users, which improve stability and workflow.
Fix to browser not showing all files or external disks when moving between LIbrary and File tabs

Fix to browser search bar, where some folders would not appear until search was refreshed

Fixes to Reverb routing and triggering

Improved variation triggering (fixing a bug where occasionally pitch variation would not apply until after 5 triggers)

Fix to crash using large presets

Missing files can be found by folder, not just by file, improving workflow!
How do I update Weaponiser?
To get the latest version of Weaponiser, log into your Krotos account, and head to the 'My Downloads' section.
Happy Weaponising!
New to Weaponiser? Try a free demo.
All Krotos software is available for a free 10 day trial. The demo features a light selection of presets and assets to test out in the software.
Demo Weaponiser
RELATED PRODUCTS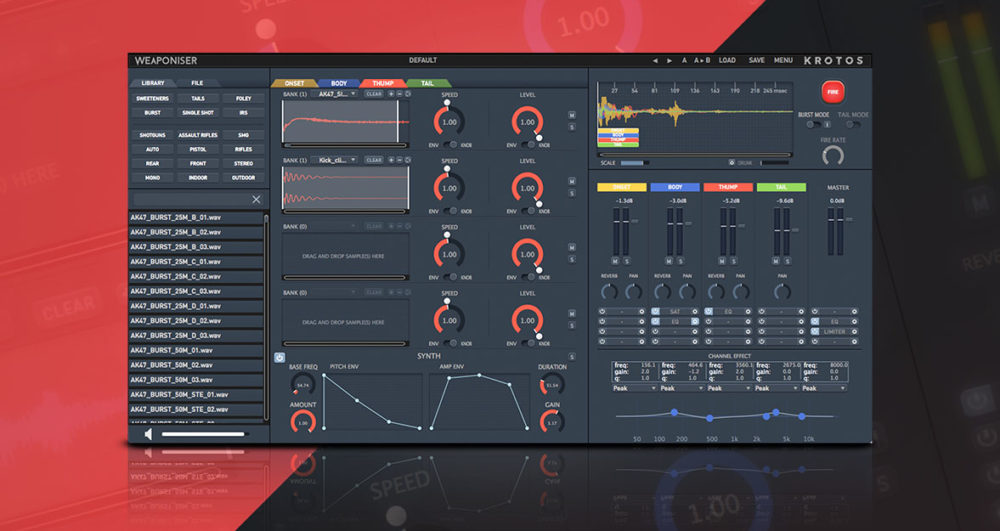 Buy Now
Your Secret Sound Design Weapon Weaponiser is an inspiring audio layering solution that allows you to design,...