Empower your project with a creative resource of sound effects
Hyper realistic Foley, deafening sci-fi blasts, tense horror ambiances, or rich cinematic atmospheres – tell your story with specialised sound effects and transport your audience into your film, tv, or game world.Krotos Sound Effects Libraries offer you a double-resource of sounds to suit your own workflow: supercharge your project with full integration with Reformer Pro & Weaponiser, or support your traditional process with a unique, royalty-free resource of effects.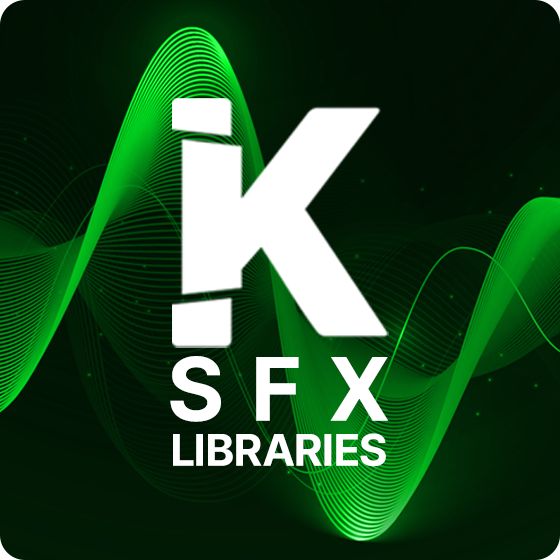 Up to three times the value for the same price
With Krotos Sound Effects Libraries, you receive two downloads (or three for hybrid libraries) in your purchase: your integrated library for use inside a Krotos plugin, and your traditional library for use in any existing workflow. The traditional sound effects library of 100% royalty free sounds offers complete flexibility for your design process: add to your DAW timeline directly, or with other plugins to sync to footage.

Curated and unique sounds, handpicked by the best sound recordists and designers

Rich and cinematic royalty-free sounds to enliven and add character to your projects

High definition audio files & well organised metadata ready for use in Soundminer, BaseHead, and all DAWs
Look no further. We are trusted by sound professionals worldwide.
Krotos sound libraries have shortened the amount of time to create interesting sounds for the different projects I've been working on. The ability to add my own sounds is great as well. All of Krotos' products are very inspirational and provide a lot of creative choices and customization.
Robb Wenner, New Noise Music & Sound Design
Search Libraries
Introducing! The Krotos Starter Sound Effects Library
The Krotos Starter Sound Effects Library offers you a broad collection of high-quality sound effects spanning across classic categories of sound design. This all-rounder contains 3,965 professional and royalty-free SFX components including Foley, Surfaces, Magic, Weapons, Mechanicals, and much, much more. This go-to collection of sound resources is a perfect companion for those starting out in sound design, or anyone looking to expand their existing collection with an affordable SFX pack for post-production and game-audio.10.5GB | 3,965 Audio Files | 96/192khz High-Quality | Embedded Metadata

$238.80

inc. VAT

You save $119.40 (50%)



Get Yours Now
Own a Krotos Plugin? Integrated sound effects libraries to push beyond your limits.
Unlock your Sound Effects Library's full potential by turning it into a powerful addition to your workflow with Krotos plugins with straight out-of-the-box assets.
Reformer Pro Sound Libraries
Reformer Pro Libraries are carefully optimised to interact seamlessly with input from a live mic or pre-recorded audio file inside your DAW. Load the sound library in Reformer Pro and start designing, automating, and performing all your unique sound effects in real-time.
Explore Reformer Pro Libraries
Weaponiser Sound Libraries
Weaponiser Libraries offer designed presets for instant power and variation. Weaponiser's powerful bank system delivers almost unlimited sound variations to your design. Thousands of unique assets and variations can be generated from this sound effects library and synced to screen immediately.
Explore Weaponiser Libraries
Hybrid Sound Libraries
Hybrid Sound Libraries offer full integration for both Reformer Pro & Weaponiser, allowing you to explore your sound effects' complete potential with assets and presets for both plugins.
Explore Hybrid Libraries
We'd love for you to sample some of our high-end sound effects for free!
Subscribe to Krotos' newsletters to receive a free Krotos sound effect library every month. Our monthly free sounds offer you a wide range of sound categories from Foley, combat sounds, impacts, animal sounds, to transitions and more!

Free Monthly SFX Packs