Krotos Sound Design Live Streams Episode 2:
Designing assets for a post-production & game-audio projects from home
The Krotos product experts will be hosting regular livestream sessions and Q&As straight from our homes in Scotland in the coming weeks. Our live stream will offer practical sound design tips and tricks, how-to demos for our product range, a give-away, and we're here to answer your questions in a Q&A.
Our experts will cover a variety of topics over the course of each session and we welcome users at any level. Whether you're already a Krotos user or a complete beginner, we'll show you how to use our software to design amazing audio quickly. 
Join us to discover new ways to approach the challenges we face while working in sound from home. We hope to bring everyone a little closer together during these quarantine days, so we hope you can join us to say hello!
Sign Up
Episode 2:
Workflows for Game-Audio & Post-Production
Thursday 16th April
18:00 BST / 19:00 CEST / 13:00 EDT / 10:00 PDT
We had a lot of fun doing the first episode of our Live Stream series last week. Thanks for tuning in and taking part. We've listened to your requests, and we're answering your questions this next session. This week, our Sound Designer Michal takes over the Youtube channel to talk you through workflows for game-audio and post-production.
Tune in again to learn sound design workflows for game-audio & post-production. We'll demonstrate working to an imaginary sci-fi project, covering vehicle sound design in Igniter, creating a library from scratch using the Reformer Pro Analysis Tool, and building original assets in Weaponiser for game-audio applications in Wwise.
Join the Live Stream & win a copy of Igniter!*
One lucky winner walks away with our complete vehicle sound design system, Igniter! 
To be entered into the prize draw, sign up for the live stream through our mailing list below.
A winner will be picked at random during the session, so make sure you tune in!
Terms & Conditions apply*
Sign Up to win
If you're already subscribed, submit the form again to update your subscription preferences, and you'll be entered in to the prize draw.
The winner will be selected at random and announced during the stream and can claim their prize in the comments section. We reserve the right to select a new winner should the prize not be claimed during the stream.
Watch the Live Stream here:
We'll be going live through Youtube at 18:00 BST (19:00 CEST / 13:00 EDT / 10:00 PDT)
To join the live chat, open the video directly on Youtube!
New to Krotos? Try a free demo!
All Krotos software is available for a free 10 day trial. Start your free trial to follow along with our live streams.
Demo Now
RELATED PRODUCTS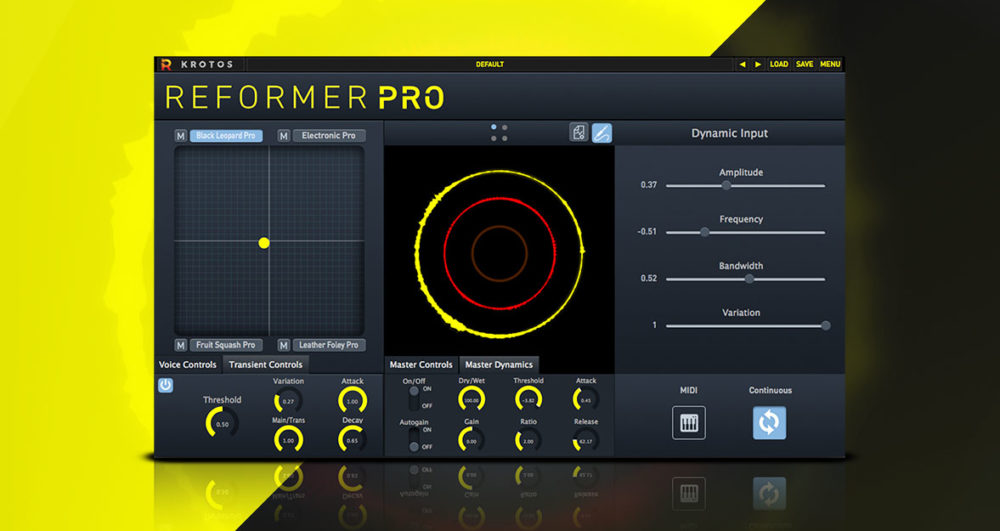 Buy Now
Reformer Pro is a unique 'sound design instrument', that transforms pre-recorded audio files into performable sound...