Create Hollywood Sound in Seconds with Krotos Studio
Stop spending hours searching, editing, layering, and sounding like everyone else. Krotos Studio is the sound platform for all skill levels. Creating unique and royalty-free sound effects has never been easier!
Video Editors & Game Developers!
Use Krotos Studio as a Standalone App
Sound Professionals!
Use Krotos Studio as a VST/AU/AAX plugin
---
Create Hollywood Sound in 3 Easy Steps
1.
Select a category and preset
Pick from a range of popular sound use cases. Unlock more categories.
2.
Perform your sound
Shape the sound intuitively and in real-time using your mouse or MIDI controller.
3.
Drag and drop to timeline
Simply drag and drop the sound, you just performed, to your timeline. Or, any folder.
Our Users are Loving it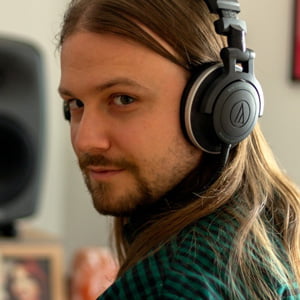 "Krotos Studio is the only solution I go to for any type of sound design on a day-to-day basis. It is the Swiss Army knife for sound and an industry-standard on the horizon."
---
Nikola Jeremić
Composer / Sound Designer
Cyberpunk 2077 • Destiny 2 • Warhammer 40k
"Krotos Studio has become an invaluable tool for sound design. It has fundamentally changed the way I work and think about designing sounds."

---
Tony Gibson
Sound Designer, Molinaire Post Production
Misfits • Warhammer 3 • SAS: Rogue Heroes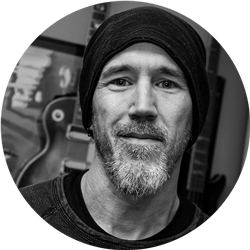 "With ever tightening schedules, the need to be quick, creative, and unique has never been stronger and I see Krotos Studio allowing me to be all three."
---
James David Redding III M.P.S.E.
Sound Designer, Sound Effects Editor
The Queen's Gambit • The Americans • City on a Hill
We will be adding pro-level control with an advanced edit mode and ability to import your own sounds as we continue to develop the platform through 2023.
Why Krotos Studio?
HIGH QUALITY SOUND
Instantly access professionally recorded SFX categories and presets.
SHAPE AS YOU NEED
Easily perform sounds to perfectly match your unique requirements.
100% ROYALTY-FREE
No more copyright issues. Use the sounds in any of your projects.
UNIFIED PLATFORM
One place to find, design and create sound effects.
NEW!
Expand the free version of Krotos Studio with more presets, more variation, and more control.
Unlocks 24 new presets over 8 sound categories to the free version of Krotos Studio.
Genesis debuts the Weapon, Cinematic, Vehicle, and UI categories inside Krotos Studio, introducing powerful new presets. Plus, we've added versatile new presets for the Ambiences, Footsteps, Foley, and Whoosh categories that are already available.
---
Select Your Version of Krotos Studio
Krotos Studio
Free
---
Ideal for:
Testing Krotos Studio's workflow and functionality
---
Includes:
Krotos Studio software

Ambiences
City, Forest, Starship, Suburbs, The Death Station
Cinematic
Seismic Blast

Footsteps
Boots

Foley
Basic Cloth

Whoosh
Lightsword, Hybrid, Electrical, Fire, Airy
Weapon
Lazer Pistol
Krotos Studio +
Genesis
---
Ideal for:
Short/long-form content, film, TV, and game projects
---
$29 $14
Includes:
Krotos Studio software

Ambiences
City, Forest, Starship, Suburbs, The Death Station, Countryside, Marshland, Apartment, Wind and Rain

Cinematic
Seismic Blast, Dark Entry, String Riser, Synth Riser, Trailer Rise, Eerie Transition, Rise and Hit, Giant Hit

Footsteps
Boots, Heels, Sneakers

Foley
Basic Cloth, Wooden Door, Screen Door, Padlock, Classic Keyboard, Modern Keyboard, Car Foley

Whoosh
Lightsword, Hybrid, Electrical, Fire, Airy, Designed Air

Interface
Modern UI

Vehicle
Wet Driving

Weapon
9mm Pistol, Explosion, Lazer Pistol
Tutorials for Creating Ambience Sounds
Sound FX In Seconds – Krotos Studio Content Series
Our new 'Sound FX in Seconds' series demonstrates the power of Krotos Studio Free in a series of different use case videos.
Frequently Asked Questions
How can I use Krotos Studio?
Krotos Studio is an audio plugin and standalone app. It can run both inside Digital Audio Workstations (DAWs) or an its own application.
To add the plugin to your session, you will need to create a midi or instrument track, and look for it in your plugin list. For use the standalone app, look for the shortcut to Krotos Studio on your desktop (on Windows) or in your applications folder (on Mac)
Does Krotos Studio support Native M1 on Mac?
Yes! Krotos Studio is now fully compatible with Apple Silicon and will run natively on M1/M2 systems.
What DAWs / hosts can I run Krotos Studio in?
We have thoroughly tested on the following hosts, and can guarantee full performance: Pro Tools, Ableton Live and Reaper
The following hosts have been tested, but you may experience some issues: Logic Pro, Cubase, Nuendo and Studio One
Any other DAWs or host software are not supported at this time. You may find that the plugin works as expected, but if you have issues please contact support. We will expand full support for other hosts in due course.
Can I use Krotos Studio with video software?
Yes, can drag and drop sound effects from Krotos Studio into video software. This has been tested with Avid Media Composer, Adobe Premiere Pro, DaVinci Resolve, Final Cut Pro X, and Vegas, and should apply to all other video editing software.
Why does Krotos Studio only include a few presets and categories of SFX?
This is just the first step for Krotos Studio as a larger product. As we expand and develop it, more use cases and presets will be covered over time.
Is Krotos Studio multi channel / surround compatible?
Krotos Studio supports multiple stereo channel output in all supported hosts. Check our tutorials and the manual for more details. The plugin does not support 5.1 or other surround formats at this time, but the stereo outputs from the plugin can easily be used as part of a surround mix.
Can you run Krotos Studio as a mono plugin?
At this time Krotos Studio is stereo only.
Can I automate the parameters in Krotos Studio?
Yes! It behaves like most other audio plugins, just add parameters to automation as you would with any other plugin.
I can't paste my activation key into the activation window in Reaper? How can I activate the plugin?
This is a restriction within Reaper for copy-pasting into these types of popup windows. A simple workaround is to right click in the licence key area and select paste, once you have copied your licence key from your account or from an email you've received from us.
I'm activating the plugin, but the activation process fails.
When activating Krotos Studio, please make sure that you do not have any VPN, firewall or antivirus software running as this may block the activation process.
Why are the assets in the Free version of Krotos Studio downsampled to 44.1 khz/16 bit?
Since we are allowing everyone to access this version of Krotos Studio, we want to keep the download size as small as possible. Higher resolution versions of all audio assets will be available in future versions of the product.
Can I add my own sounds in Krotos Studio?
Not at this time. In this version of Krotos Studio only the factory presets can be used. We aim to include this functionality and control in the future.
What are the minimum system requirements?
Krotos Studio software requires:
A Mac Intel computer with a minimum of 2.4 GHz Intel Dual Core Processor, 4 GB of RAM and the operating system OS X 10.13, or later.
Or, a Windows computer with a minimum of 2.4 GHz Intel Dual Core Processor, 4 GB of RAM, and the operating system Windows 10 or above.
My Licence Key is invalid!
This error can occur for a few reasons. Can you please make sure that you do not have any active Firewall, Antivirus or VPN (including browser extensions) running while trying to active Krotos Studio.
If the activation still fails then I would recommended trying to activate the Standalone version instead. This should also activate the plugin versions.
Need Help? Submit a Support Request.
Get Krotos Studio Free and Create Hollywood Sound in Seconds