NAMM 2022 highlights
So NAMM was a blast, and everyone who came to see us loved the first look of Krotos Studio – our new sound design platform.
We had a great time at the show and met a bunch of people who we have collaborated with and who have supported our products over the years – we truly have a great community of users and friends!
We also loved meeting the wider sound community and made some great new friends along the way. The event was full of innovative products from throughout the audio industry, and we met some incredibly interesting people.
So, here are our highlights from NAMM 2022!
Krotos Studio was a hit!
NAMM guests were treated to an exclusive first look at the Krotos Studio, and the love for Krotos Studio was immense. That's no exaggeration. We did a survey with everyone that came to see it and we were honoured to hear such a positive response to Krotos Studio.
Everyone that tried it out said that the platform is going to help them save time in their workflow, with most told us they could be saving around half a day's work on each project they do!
Most said they could see themselves using Krotos Studio every day, and this included pro sound designers and content creators being the most frequent users.
Finally when asked if they would recommend Krotos Studio to a friend, 93% of you said yes!
You charmers, you.
Some of the awesome visitors who came to our booth and tried out our products
Sonic State visited the booth!
Sonic State visited our booth and interviewed Matthew Collings, our Head of Product to get to know more about Krotos Studio – watch the video here. Sonic state have been great at sharing our software and libraries over the years, so thanks again for this one guys!
Alessandro was super excited to meet the ultimate Sound Superhero, Richard Devine
If you know synths and you know sound design, then no doubt you know Richard Devine, a long term collaborator of ours, having created some fantastic presets for Concept 2, it was great to catch up with Richard after all this time, and it was a first for our Product Expert, Alessandro! They talked all things synthesis and sound design, and Richard is gearing up to try Krotos Studio in his workflow.
Meeting sound professionals and Krotos friends
Similarly, Cameron Gorham, a.k.a the awesome Venus Theory came to see us! VT has carved out a fantastic following on his YouTube, pairing his dry humour with his phenomenal sound design skills, compositional advice and excellent compositional work. Have you checked out Venus Theory's new album yet? Cameron was excited to try Krotos Studio and left with one of our super colourful water bottles. Till next time!
Grammy nominated music producer, classical composer and multi-instrumentalist, Cobaine Ivory came to experience Krotos studio too and was blown away. We can't wait to see what he can do with it!
Pool parties with industry pros and rubbing shoulders with more Sound Superheroes
I'm sure you'll be surprised to hear that they don't throw many pool parties in Edinburgh. So when NAMM organised one, we had to go! We met more great and incredibly talented people and it was great to experience that famed California weather! We'll miss this when we return to rainy Scotland!
Stevie Wonder came to the show to try out gear and plugins!
Stevie is a familiar face and a NAMM regular, so it was great to see him checking out the software and enjoying the atmosphere. Not something that you get to do every day!
That's a wrap for NAMM 2022!
After a couple of years with no NAMM, it was great to go back and see teams and people that we had missed these last few years. We get to leave with some amazing new friends and memories, and you all get to see what's next for Krotos, in the form of Krotos Studio. Thank you for your positive and exciting feedback – we're looking forward to showing the next iteration in 2023!
Enjoyed this article?
Join our newsletter using the form below to receive notification whenever we publish new content like this. You will also gain access to our monthly free sound effects, as well as exclusive discounts & deals!
Products Used in this Video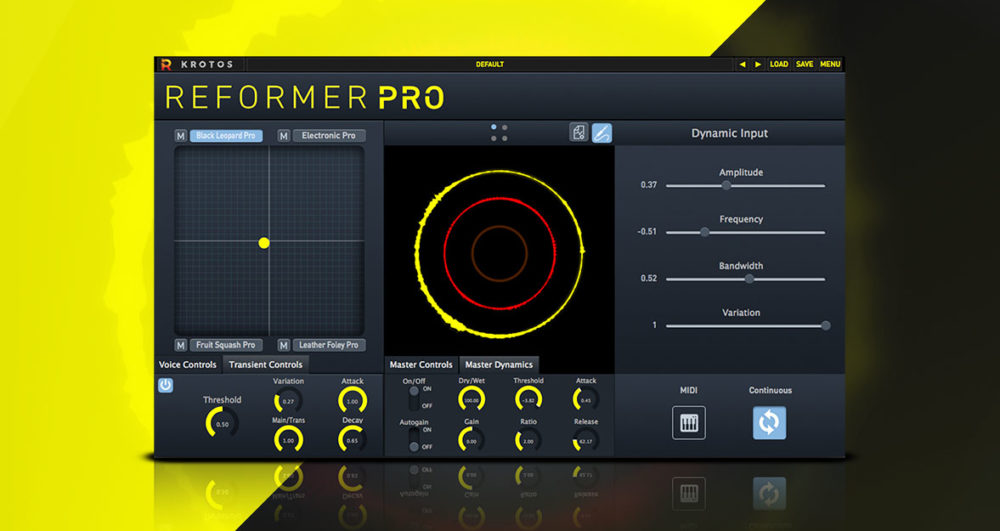 Buy Now
Reformer Pro is a unique 'sound design instrument', that transforms pre-recorded audio files into performable sound...