Designing a giant spider monster using the Krotos Sound Design Bundle
What do you do if you have three hours to deliver a project? Sound designer & composer Benjamin Jacquier was faced with this challenge during his recent collaboration with with VFX Artist ATOM. While working on a promotional tie in for the Sony Pictures Home Entertainment Monster Hunter​ film release, Benjamin used the software from the Krotos Sound Design Bundle to deliver the full audio treatment for a monstrous spider creature in time.
"I've worked with VFX artist ATOM on a bunch of projects, composing music and created sound effects. For the release of the movie Monster Hunter, Sony asked ATOM to create a giant spider monster. The goal was to create a monster as you'd see on a see on a big screen, in just two days.  I only had a couple of hours to compose the music and to create the SFX for the short. I received the edit at 6pm a Monday, and I delivered the music and the SFX at 9pm on the same day, all from scratch. It's the kind of challenge we like to put ourself into."
– Benjamin Jacquier
The Sound Design of the Giant Spider Monster Walkthrough
Language: French.
Subtitles available in other languages.
Watch the walkthrough to see Benjamin's workflow for this project using all the software contained in the Krotos Sound Design Bundle. In this video, Benjamin focuses on the sound of the spider in the project.
With impact recordings taken in the forest (with a little help from Drogo, the rescue dog!), Ben shows you his process for importing these samples into Weaponiser to syncronise footsteps to picture.
Other recordings from the session are imported into Reformer Pro to create a library of textures, and then synced to picture using a microphone. Finally using Dehumaniser 2, Benjamin tackle the monster sounds!
"I like to use Krotos tools for that kind of project. It is fast and easy to use when you get to know the tool. Reformer Pro is my favourite thing, I do a lot of immersive sound design, especially for FPV drone footage. I use Reformer Pro a lot to shape the sound of the wind and the camera movement. Dehumaniser 2 is great for monster 's sounds and voices, it's the best.

I used Weaponiser a lot in our next big project with ATOM, where I had to shape the sounds of different guns. It was a lot of fun to make." – Benjamin Jacquier
free Sound Design Bundle trial
RELATED PRODUCTS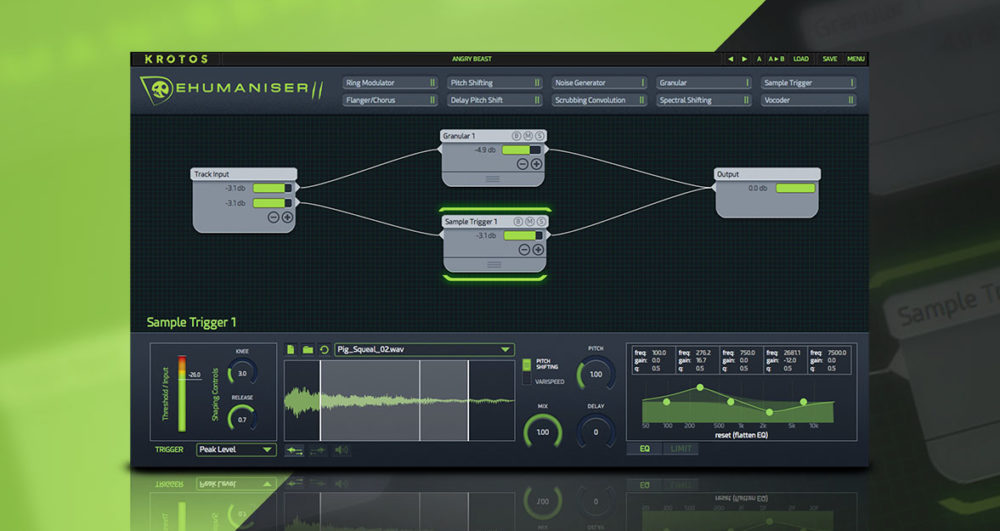 Buy Now
Dehumaniser 2 is a powerful vocal processing tool perfect for a range of vocal effects, from monsters to robots and...