Dinosaur Roars, Screams, and Growling Sounds
Recently, Avid shared a fantastic video by Sound Designer, Joy Banerjee, in which he created dinosaur roar sound effects from scratch using his voice and a chain of plugins.
The minute-long video was a time-lapse demonstrating the recording of his voice as source material, and various stages of the process.
We spoke to Joy who broke the video down for us.
But this got us thinking. How would we make these sounds? And can we do it faster? Learn both methods in this blog.
First, discover how Joy made his awesome roars in a step by step guide below.
Then we'll show you how we'd create dinosaur roar sound effects.
View this post on Instagram
Dinosaur Roar Sound Effects – The Joy Banerjee Method
"I recorded a few vocal layers whilst watching the video, and tried to match the intensity and energy."
Layer 1
"I first pitch-shifted my voice down by 7 semitones to place it within the low frequency range, and then and added an EQ to boost the bass for the body. I also boosted the high-mids and high frequencies to bring out the grainy textures within my voice.
Next, I processed the vocal takes with Waves OVox changing the formant, tone, compression, and distortion parameters."
Layer 2
"I again pitch-shifted the voice down, this time by 12 semitones and added some multiband distortion and saturation. I then added the Pro Tools Lo-fi plugin for additional saturation."
Layer 3
"For my growling layer, I used a doubler to create some width. I then balanced the volume of the layers and added some reverb for depth and space."
Follow @joy.in.music
Like what you're reading?
Subscribe to our newsletter for more great content, deals and monthly free sounds!
Dinosaur Roar Sound Effects with Dehumaniser 2 – The Krotos Method. A Simpler Workflow.
Watch this 60 second video to learn how Dehumaniser 2 can fast-track your workflow. Simplifying the process of creating dinosaur roar sound effects.
Video Transcription
We have this dinosaur roar scene that we want to design.
I want to show you how it easy it is to do it with Dehumaniser 2.
So here, if I bypass Dehumaniser. I just recorded myself screaming at the microphone… which is always fun to do!
And then I've actually got started with the Growly Beast preset. Which sounded pretty good, but I thought I could do better.
So I created this different preset. I just added the noise generator and tweaked the delay pitching a little bit from the Growly Beast preset. You get a bit more growl and a bit more size.
It was incredibly easy. Literally took 10 seconds.
You can create awesome dinosaur roars and growls using your voice and Dehumaniser 2, our creature vocal suite.
The drag and drop interface lets you have multiple pitch shifting instances instantly in the same window. This saves time and effort compared to duplicating and pitching audio files!
Combine this with a noise generator and a granular engine to craft new high end frequencies that are lost as a result of pitching down – no need to boost the high end frequencies that aren't there, you can introduce new textures that follow the envelope of your voice.
With a built-in EQ and other fantastic FX, your voice literally becomes a pig squeal or a lion roar or other animal, using our scrubbing convolution.
With some practice and some creative ideas, you can be on your way to creating awesome dinosaur roar SFX in minutes!
Enjoyed reading this dinosaur roar sound effects tutorial?
Subscribe to our newsletter and stay updated with all of our new tutorials, articles and offers! Fill in the form below!
Related Products
Buy Now
Simple Interface. Powerful ResultsDehumaniser Simple Monsters is a powerful vocal processing tool perfect for a range of...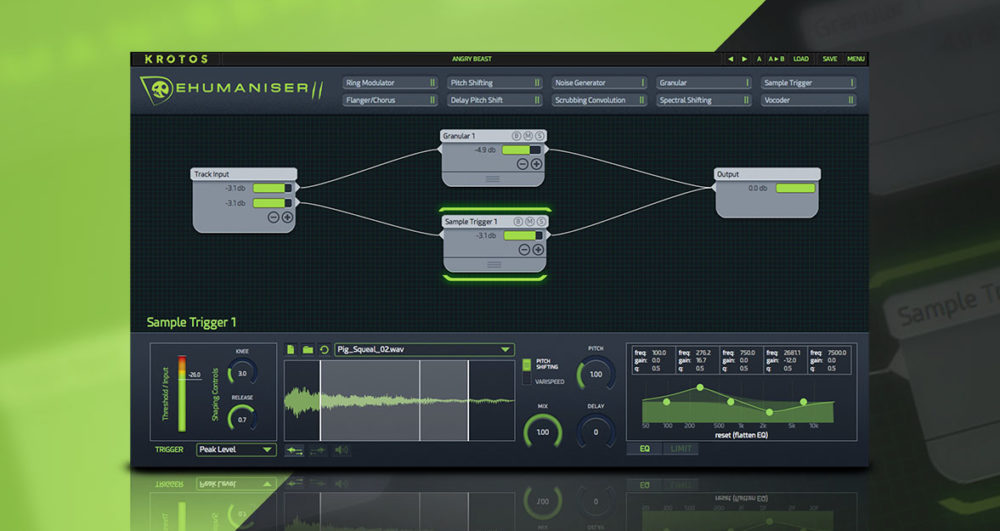 Buy Now
Dehumaniser 2 is a powerful vocal processing tool perfect for a range of vocal effects, from monsters to robots and...