Dehumaniser 2 Walkthrough – Perfecting your Creature and Monster Sounds
Dehumaniser 2 is a custom one-stop plugin for creature and monster voice and sound creation. With Dehumaniser 2 you can process recorded audio or perform in real time. Our factory library ships with over 100 monstrous presets.
Creature & Monster Sound Features
10 Essential Modules

100 Monster Sound Design Presets Processed from Animal Libraries

Work in real-time to design unique creature and monster voices live

Works in any major DAW
Our new modular system gives the user precise control over the signal flow.You can create serial and parallel signal pods quickly and easily.
Experience The Professional Software Used in:
Sound Design for

Avengers: Age of Ultron

Animal Voice Creation in

The Jungle Book

Monster Sounds in

Far Cry 4
Doom

Character and Monster Voices 
Creation Process Tools and Techniques
Design, complex and dynamic interconnecting systems of processing

Use up to two instances of each node

Use multiple pitch shifters, granular processes, spectral or convolution processes.

Mute bypass and solo node per node

Switch between routing and mixed view on the lower panel

Assign and create macros per module our new collapse and draw system

Automate hundreds of parameters

Unprecedented control over your processing and workflow
Use Dehumaniser 2 to design processing that reacts differently to the dynamics of an incoming signal. Watch in the our walkthrough video as we set up two different chains of processing and allow one to be triggered by a higher amplitude. Try the stereo spread control, add a wider image or to add depth to the sound.
Our new monster sound library includes over 100 high quality animal recordings to include in your setups. Trigger these samples based on amplitude pitch or from a range of audio descriptors, either with a sample trigger module or as part of our scrubbing convolution module. This includes rare and unusual animals like Bengal tiger and black leopard, as recorded by our sound recordist in Thailand.
Drag and drop a selection of sound files from our audio example's folder to get you started with your sound design. These audio files ship with the plugin are included in the install.
We hope this gives you a good insight into what you can do with Dehumaniser 2. And we hope you join us next time.
Try a Free Demo
Ready to try it out? Download a free 10 day Dehumaniser 2 demo, which comes with all of the software's presets to test out in your own setup. 
Demo / Buy
RELATED PRODUCTS
Buy Now
Simple Interface. Powerful ResultsDehumaniser Simple Monsters is a powerful vocal processing tool perfect for a range of...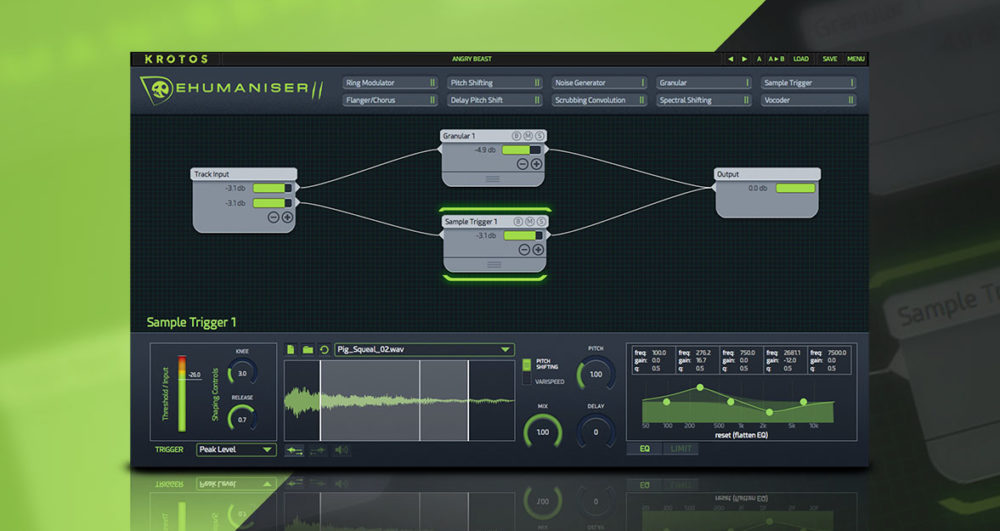 Buy Now
Dehumaniser 2 is a powerful vocal processing tool perfect for a range of vocal effects, from monsters to robots and...