Dehumaniser 2: Bring Your Creatures to Life
Where it all began…
Dehumaniser is the product line where it all began for Krotos: From its origin as a final-year student assignment in 2013, this innovative Krotos vocal processing product line has since evolved into the industry-standard Dehumaniser 2. A favourite across audio post-production and games industries, Dehumaniser 2 has been responsible for creature effects in a growing list of major Hollywood and AAA game titles from Stranger Things, Avengers, Captain Marvel, Star Trek and so many more.
Over the past 7 years, this vocal processor has come to define much of the Krotos mission; to improve the way sound is designed and performed. Krotos empowers creativity with efficient real-time workflows, allowing sound designers to produce world-class results at high speed.
"Dehumaniser is an incredible tool for creating unique and varied vocal sound design treatments. From animals to alien effects, it is simple to use and easily tailored"
Lora Hirschberg
(Oscar Winner / Re-recording Mixer)
Avengers, Inception, Lord of the Rings
Buy Now
What's new in v1.3.1?
Dehumaniser 2 is a modular, node-based vocal sound design system for designing a wide range of vocal effects and processing character dialogue. Easily create anything from fantasy creatures, horrific zombie vocalisation, or futuristic robots; to subtly processed dialogue, backing-vocals, or vocal textures.
Introduced in 2016, Dehumaniser 2 continues to evolve: for the software's v1.3.1 update we've added a full range of new presets to the software covering 'Speaker' and 'Transparent' dialogue presets, as well as specialised music presets for processing lead and backing vocals. Sound Designers Damjan Mravunac and Tyler Hoffman have contributed their own artist presets. 
New Presets:
10 new dialogue presets including 'Speaker' and 'Transparent' categories

14 new music presets for processing lead and backing vocals in your tracks

19 new artists presets from sound designers Damjan Mravunac and Tyler Hoffman
New Demo:
Try this new version for free for 10-days, even if you've already trialed it before!
New Updates:
Fixes to increase the stability of the plugin

Various fixes to session recall

Settings.dat file added by default for all OS X users

Improved touch automation support

Improved reset values for parameters

OS X Catalina support

Studio One support
"When Krotos approached me to create presets for a Dehumaniser update, I wanted to start from scratch to create a selection that I could use without needing other material to make the overall sound. I found that creating robotic patches for dialog were the easiest with the best results. There are a few more patches that would require some tweaking to fit a voice or whatever audio is preceeding the plugin (Mechanical Dragon & Rock Golem). My favorite preset created would have to be the ExtraTerrestriWhale; which is used to sound like a space whale…obviously! 
Tyler Hoffman (Sony / Insomniac Games)
Buy Now
Try a Free Demo
We've listened to your feedback and have changed how our Dehumaniser 2 demo works: You can now trial the fully-functioning software (including all its presets) without the periodic 'demo voice' interrupting your work.
Already trialed before?
If you've previously tried Dehumaniser 2 and want to give it another try, simply log into your Krotos account and download the new version. Once in the plugin, click 'Try' in the pop-up window. You do not need to purchase the demo a second time.
RELATED PRODUCTS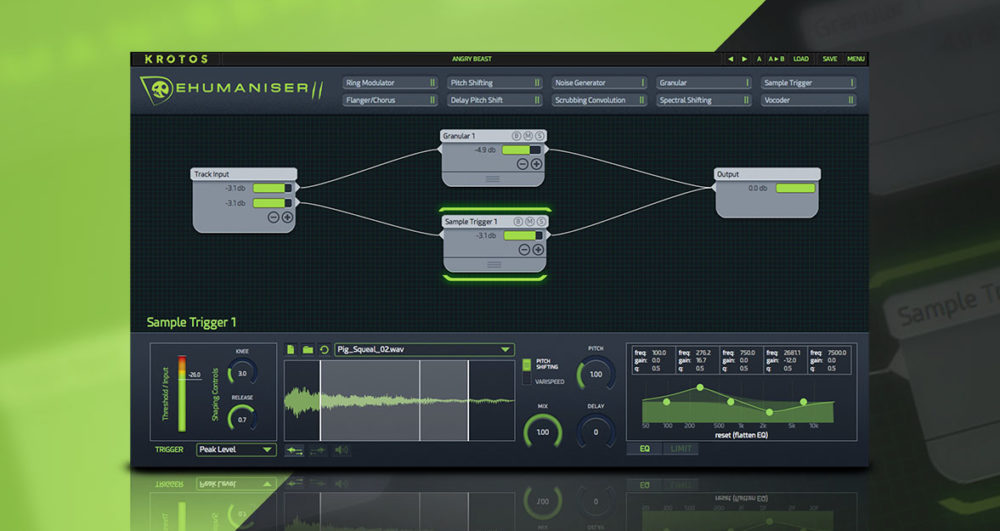 Buy Now
Dehumaniser 2 is a powerful vocal processing tool perfect for a range of vocal effects, from monsters to robots and...